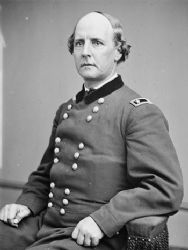 Lawyer born in South Carolina who made his adult home in Illinois beginning in 1845. He was first a Whig and later a Republican political leader. Military writer Geoffrey Perret described Hurlbut as "a hard-drinking Chicago lawyer."1 After acting as a investigator for President Lincoln in Charleston before the fall of Fort Sumter in April 1861, Hurlbut became a Union army officer. He was a conspicuous failure as a political general with neither scruples nor ability. He was a frequent correspondent with President Lincoln on civil and military affairs.
Mr. Lincoln sometimes had to deflect Illinois politicians from their desired patronage goals. Such was the case with northern Illinois Republican Stephen A. Hurlbut, a transplanted South Carolinian. According to Hurlbut's biographer, the state representative but journeyed to Washington in March 1861 to attend Mr. Lincoln's first inauguration. "After the solemn ceremony on Capitol Hill, Hurlbut advised Lincoln's private secretary, John G. Nicolay, that he intended to return to Belvidere for two weeks but would return to Washington about March 20, 'when I hope to find the new order of things in successful operation' – and, by implication, such deserving candidates as himself might expect presidential appointments. He requested Nicolay to intervene with Lincoln to procure the office he sought."2
Hurlbut did not get a patronage appointment – despite rumors that he would get a diplomatic assignment to Brazil – but he get a presidential mission to visit his hometown in Charleston, South Carolina – where secessionists were investing the Union's Fort Sumter. Historian Allan Nevins wrote that Hurlbut, who had studied law under anti-secessionist Charleston attorney James Louis Petigru "would command the confidence of prominent Charlestonians. On March 21 Lincoln asked him to hurry down and test Seward's supposition that South Carolina harbored many crypto-Unionists. Hurlbut, telegraphing his sister that he was making her a visit, at once departed. Lincoln's friend Ward Hill Lamon….also went down. In fact, he and Hurlbut traveled together, each supposing that he was the principal emissary."3 Historian Richard N. Current wrote that President Lincoln needed to get a first-person evaluation of the situation in Charleston. Current wrote that "Hurlbut… seemed well suited for the job…. Lincoln said to him: 'Seward maintains that Unionism is potentially strong in the South, even in the state of South Carolina itself. Go and see.'"4 Hurlbut said that after he informed the president at this meeting that "there were no Union people" in Charleston, Mr. Lincoln "said he would like very much to know. I told him he could know – that I would go down there and find out for him. So in the course of a day or two Col. Ward H. Lamon and myself were sent down there – Lamon carrying some authority to call upon the Postmaster there, to settle his accounts, I think."5
The Hurlbut mission was one of several that President Lincoln sent to investigate the situation in Charleston. Historian Maury Klein wrote: "On Sunday, the 24th, Lamon and Hurlbut alighted from the 8 a.m. train and went their separate ways to avoid suspicion. Lamon registered at the Charleston Hotel as a Virginian and drew mild curiosity. Hurlbut made himself conspicuous as a native son….That evening Hurlbut slipped away from his callers and met Lamon outside the Charleston Hotel. The usually boisterous Lamon had managed to keep a low profile; no one yet suspected his business."
The two men remained in Charleston for just two days. On his return to Washington, Hurlbuit reported to the President and repeated his report in the presence of Secretary fo State Seward, who "still insisted…that there was a strong Union party in the South which would stop the movement."6 At the request of the President, on March 27, 1863, Hurlbut sent the following lengthy report – no Hurlbut report was ever short – to the President:
In compliance with the suggestion made on Thursday last — I left for Charleston on night train of Friday & arrived in the usual course on Sunday morning at 8. A. M. (24th) Col. Lamon who started with me continued company until our arrival at Charleston when we separated he to the Charleston Hotel & I to the house of my sister.
We noticed nothing of particular moment on the Road except the activity in preparation & shipment of material of war and projectiles at Richmond for the South.
We passed on our down trip two open platform cars fully loaded with shells of 8 and 10 inches – and on our return we met four other cars similarly loaded all bound for the City of Charleston – I noticed at the R R Depot at Charleston eight iron mortars newly landed.
On Sunday morning I rode around the City, visiting especially the wharves and the Battery so as to view the shipping in port & the Harbour.
I regret to say that no single vessel in port displayed American colours. Foreign craft had their National colors, the Flag of the Southern Confederacy and of the State of South Carolina was visible every where — but the tall masts of Northern owned Ships were bare & showed no colors whatever.
Four miles down the Harbor the Standard of the U. States floated over Fort Sumpter the only evidence of jurisdiction and nationality.
The Sandy banks of the Islands which form the harbor were lined with fortifications abundantly manned and placed on strong points to command the Channel.
I learned from one of the Pilots an acquaintance in former years that the vessels sunk to obstruct the Ship Channel had not had that effect but had been swept out by the force of the current, making but a slight alteration on the Bar.
On Sunday night I passed by the Charleston Hotel & was quickly joined by Col. Lamon whose person was still unknown – We went to the residence of James L. Petigru to whom I had the honor of introducing Mr L – By his advice Mr. Lamon, who strongly desired to visit Fort Sumpter [sic] and was provided with a Post office appointment — presented his card to Gov. [Francis W.] Pickens on Monday morning and was kindly & respectfully received. He will report his own acts & observations as I saw him no more from Sunday evening until we met on the train on Monday night.
As my object was to have a fair degree of publicity to the fact of my being in the City as a private person upon a last visit to my relatives – I attended church on Sunday afternoon and met many of my old acquaintances and friends – In the evening I was favored with visits at home from many others and on Monday I called upon all that I could think of of any prominence and position. By appointment I met Mr Petigru at 1. P. M. — & had a private conversation with him for more than two hours –
I was at liberty to state to him, that my object was to ascertain and report the actual state of feeling in this City & State. Our conversation was entirely free and confidential. He is now the only man in the city of Charleston who avowedly adheres to the Union.
Col. Grayson formerly Collector and in Congress — George S. Bryan — James M. Gray and a very few others stood out in favor of Union until within three weeks, but they have surrendered and at this day Fort Sumpter is the only spot where the U. States have jurisdiction and James L. Petigru the only citizen loyal to the Nation.
I also saw many of the leading spirits upon the other side — Wm. D. Porter Prest of State Senate — A. H. Brown, member of the State Convention — Wm H. Trescott & others formerly intimate acquaintances.
I saw many representatives of the Mercantile Interest — some heavy Importers & Jobbers, others engaged in forwarding & commission business– Enough at all events to be fair representatives to my mind of their several classes. From these sources I have no hesitation in reporting as unquestionable – that Separate Nationality is a fixed fact – that there is an unanimity of sentiment which is to my mind astonishing – that there is no attachment to the Union – that almost every one of those very men who in 1832 held military commissions under secret orders from Genl [Andrew] Jackson and were in fact ready to draw the sword in civil war for the Nation, are now as ready to take arms if necessary for the Southern Confederacy.
Many of them are civil or military officers now.
There is positively nothing to appeal to – The Sentiment of National Patriotism always feeble in Carolina, has been Extinguished and overridden by the acknowledged doctrine of the paramount allegiance to the State.
False political economy diligently taught for years has now become an axiom & merchants and business men believe and act upon the belief — that great growth of trade and expansion of material prosperity will & must follow the Establishment of a Southern Republic. They expect a golden era, when Charleston shall be a great commercial emporium & control for the South as New York does for the North.
Neither is it of any use to appeal to the people — meaning by that term the class of voters engaged in laborious occupations.
The very features of the Constitution of the Southern Confederacy — which perpetuate the control of the educated and wealthy few, over the uneducated and working many — & are most repulsive to us, are most agreeable to them– In truth there is not in South Carolina any people or any popular thought, or power of popular will -"
Hurlbut then continued with a lengthy disquisition on the state of disloyalty and secession in other southern states and his advice on how the Lincoln administration should handle Fort Sumter, Fort Pickens, postal delivery, customs, and other problems. Hurlbut concluded: "I cannot close without repeating to the President, that this is a time to expect and be prepared for the worst, & that any yielding that the times may enforce has infinitely more value when it comes from a Government strong in fact and conscious of its strength — giving not from any suspicion of fear — but with the sense of power. And if no yielding takes place so much the more necessity for the most ample preparation."
I should also state that no person except Mr Petigru is aware that I have the most distant connection with the Executive & that to keep this position as soon as Mr Lamon became known I left him to himself[.]7
After Fort Sumter was attacked on April 12 and hostilities broke out, Hurlbut was appointed as a brigadier general in the army – with the support of the same Galena politicians who supported Ulysses S. Grant. They included Congressman Elihu Washburne and businessman J. Russell Jones as well as Senator Orville H. Browning. But unlike Grant, whose support grew and widened with time, Hurlbut's base of support shrank and narrowed as reports of his drinking, arbitrary behavior and corruption increased. Ironically, Hurlbut was a brave and capable officer in the field but a disaster as a military governor in Missouri, Arkansas, Memphis and New Orleans. Like Grant, Hurlbut succumbed to periodic bouts with liquor. While Grant was a quiet and private drunk, Hurlbut was an obnoxious and public one. Furthermore, he was incompetent.
Historian Jeffrey N. Lash wrote that President "Lincoln sought to use Hurlbut to counterbalance the influence of more radical – or perhaps more conservative – political generals serving in the trans-Appalachian South. As well, Hurlbut could help prevent the West Point-dominated officer corps from assuming exclusive control not only over the direction of the Union war effort but over the process of reconstruction in the western Confederacy."8
Lash noted that "it was the president himself who appointed Hurlbut a brigadier general in 1861, promoted him to major general in 1862, gave him the Sixteenth Corps command at Memphis in 1863, and assigned him to serve under [General Edward R.] Canby at New Orleans in 1864. Lincoln found it variously necessary or expedient to trust and use Hurlbut." Lash contended that "without Lincoln's patronage and approval, Hurlbut would have had to content himself with at most a colonel's commission from Governor Yates and obscure service in command of a regiment. The president long tolerated Hurlbut's deficiencies as a commander and bore with Hurlbut's active or complicit corruption."9
General Grant also used Hurlbut when convenient. Historian Kenneth P. Williams wrote: "On November 9 [1862] he had telegraphed to Hurlbut: 'Refuse all permits to come south of Jackson for the present. The Israelites especially should be kept out.' This was not really discriminatory, and no one with imagination to picture the situation about La Grange would be bothered by it. But the next day Grant wired to Brigadier Joseph D. Webster, his former chief of staff, now general superintendent of railroads in Grant's department: 'Give orders to all the conductors on the road that no Jews are to be permitted to travel on the railroad southward from any point. They may go north and be encouraged in it; but they are such an intolerable nuisance that the department must be purged of them.'"10 President Lincoln himself had to reverse these orders.
Hurlbut also got himself involved in the administration of the Emancipation Proclamation in areas now controlled by the Union Army. In late July 1863, President Lincoln wrote to General Hurlbut, who commanded Union forces in Arkansas: ""The emancipation proclamation applies to Arkansas. I think it is valid in law, and will be so held by the courts. I think I shall not retract or repudiate it. Those who shall have tasted actual freedom I believe can never be slaves, or quasi slaves again. For the rest, I believe some plan, substantially being gradual emancipation, would be better for both white and black. The Missouri plan, recently adopted, I do not object to on account of the time for ending the institution; but I am sorry the beginning should have been postponed for seven years, leaving all that time to agitate for the repeal of the whole thing. It should begin at once, giving at least the new-born, a vested interest in freedom, which could not be taken away."11 Historian Michael P. Johnson wrote that President "Lincoln resisted pressure to extend the Emancipation Proclamation to regions of the Confederacy exempted because they were under federal control. Since he believed that the Constitution permitted emancipation only as a military necessity, he held that federal initiatives based on any other considerations violated the Constitution and created grave political risks for both the Republican party and the eventual abolition of slavery."12
It fell to Hurlbut to devise a labor policy for newly liberated black men and women. On August 15, 1863, Hurlbut sent President Lincoln a copy of a letter he had sent to S.B. Walker. In that letter he said that "the relation of master and slave does not exist in Mississippi….and soon the banks of the Greater River will bristle with the bayonets of colored Regiments taken from the former slaves of the soil."13
Hurlbut's course during this period was erratic. On July 10, 1863, Hurlbut sent a letter to President Lincoln: "I take the liberty of writing this unofficial letter by Mr. [Charles A.] Dana now on his way to Washington, that you may more fully understand the reasons of my resignation which will soon reach you."
I believe the War as war is practically over. I think most of the Seceded States will as States offer to return. I think North Carolina, Tennessee & Virginia will consent to gradual Emancipation & probably Louisiana. My duties and responsibilities for the last six months have been peculiarly trying as Commander of this Border Region while at the same time removed from the opportunity for personal distinction.
Yet all this and much more I would freely undergo did I believe it necessary.
You are aware that I am very comfortably poor, in fact dependent on my profession.
I am rapidly losing the faculty of practice and when I return unless it is done soon shall be but a fourth rate lawyer.
It appears plain to me that my palpable duty is to return to civil life before I am unfitted for it, as soon as I can be spared.
It is from no disgust at the Service — from no difficulties with my Superiors. I have never had any and have received the kindest treatment. I urgently therefore request that my Resignation now passing through official channels may be accepted and that at least as Early as the 1st September I may be allowed to retire. This will give me time to close up all my incomplete measures in process here.14
Hurlbut may have been influenced by recent Union victories at Gettysburg and Vicksburg. He changed his mind and on August 10, 1863, Hurlbut withdrew his resignation. A few days later, Hurlbut wrote President Lincoln: "By recent arrivals from the South I have become satisfied that a perfect understanding exists between the Confederate Government & the French, both in reference to Mexico & American affairs generally. It is believed that concessions on the subject of Slavery are to be made, and a Protectorate of the whole or a part of the South recognized. Some expect a surrender in fact to the French of Texas and perhaps the mouths of the Miss."15 The ambivalence with which Hurlbut was received at the White House is reflected in an August 1863 diary entry by John Hay: "This morning a letter came from Steve Hurlbut formally withdrawing his resignation and another…splendid letter full of the old arrogant and incisive energy of the man, saying that he thinks the rebellion is falling to pieces by disintegration in the West. He also sends also a sketch of a letter he intends to write to the Mississippi planters, telling them to get themselves out of their miserable scrape by accepting the events of the war, including emancipation, as accomplished facts, and forming a plan of gradually lightening apprenticeship in accordance with them, and offering themselves back to the Union. He thinks the horrors of rebellion have so broken their spirits that they will do whatever seems best for peace and the old security."16
Lincoln was struggling with how to implement emancipation in Louisiana and Arkansas in a way that provided for the welfare of emancipated slaves – called "contrabands" in the North. In the draft which Lincoln apparently did not send, he wrote: "The within discusses a difficult subject – the most difficult with which we have to deal. The able bodied male contrabands are already employed by the Army. But the rest are in confusion and destitution. They better be set to digging their subsistence out of the ground. If there are plantations near you, on either side of the river, which are abandoned by their owners, first put as many contrabands on such, as they will hold–that is, as can draw subsistence from them. If some still remain, get loyal men, of character in the vicinity, to take them temporarily on wages, to be paid to the contrabands themselves–such men obliging themselves to not let the contrabands be kidnapped, or forcibly carried away. Of course, if any voluntarily make arrangements to work for their living, you will not hinder them. It is thought best to leave details to your discretion subject to the provisions of the acts of Congress & the orders of the War Department.17
The massacre character on April 12, 1864 of black soldiers at Fort Pillow in western Tennessee proved Hurlbut's temporary downfall. Historian John Cimprich wrote: "The responsibility for reacting to the massacre fell to General William T. Sherman, who disliked black enlistment. Having ordered Fort Pillow shut down and not having noticed it listed on his department returns (where it actually appeared at least once) he was furious with Hurlbut's disobedience and seeming deception, for if the fort had not reopened, a massacre could not have occurred." General Hurlbut was removed by Grant as the military governor of Memphis in the spring 1864 and sent home to Illinois. Cimprich wrote: "Hurlbut, offended by the loss of his command, blatantly denied ever receiving an order to close the fort and demanded a court of inquiry in hope of clearing his name."18
The inactive general visited President Lincoln in Washington in June 1864 when he traveled east to attend the Republican National Convention in Baltimore as a delegate. Two months later, Hurlbut's career was saved when President Lincoln chose to send him to New Orleans. Here, Hurlbut caused even more trouble. He clashed repeatedly with local authorities and managed affairs in a way guaranteed to encourage corruption. Biographer Lash wrote that Hurlbut "masterfully concealed a clear pattern of official misconduct under a facade of strict and efficient administration." According to Lash, "Hurlbut flattered himself that he had shrewdly exploited his close association with Lincoln to obtain brigade command and thereafter promotion, to avoid courts-martial, and implement presidential reconstruction in the West. The fact was that Lincoln had been shrewder, using Hurlbut to mobilize support of the war effort in northern Illinois and gratify the Illinois Clique that had originally supported him."19
Louisiana Governor Michael Hahn wrote President Lincoln on October 29, 1864 to complain about General Hurlbut's administration and urge his replacement: "I now address you on a subject of great importance to us, the loyal men in Louisiana, and to the Union. The military officers now in power in this Department seem not only to ignore all civil authority, but their acts look as if they were determined to prevent the organization of a loyal State government, and to extinguish as much of it as has been established. I would be the last man in the world to complain of any act properly within the jurisdiction (if I may use that term) of the military authorities, or any act of theirs outside of their proper duties which would benefit the cause of the Union or the Army. But I cannot remain silent when I see the most barefaced and unnecessary attempts made to crush out a State government which was formed to aid the country and the administration. I hope you will lose no delay in sending to us Gen. Banks, or some man to take charge of the Department of the Gulf who will have the power and the desire to aid us. I speak plainly because I feel deeply the injustice which is being done us."20
Hurlbut's administration in Louisiana was an embarrassment to the Lincoln administration – particularly in the middle of a presidential election. In November 1864, President Lincoln told Orville H. Browning that "General Canby and General Hurlbut in Louisiana were doing all they could to break down the state government, organized under the new constitution, and to deprive the Negroes of all benefit they had expected to derive from it."21 President Lincoln followed up by writing General Hurlbut on November 14: "Few things, since I have been here, have impressed me more painfully than what, for four or five months past, has appeared as bitter military opposition to the new State Government of Louisiana. I still indulged some hope that I was mistaken in the fact; but copies of a correspondence on the subject, between Gen- Canby and yourself, and shown me to-day, dispel that hope. A very fair proportion of the people of Louisiana have inaugerated a new State Government, making an excellent new Constitution – better for the poor black man than we have in Illinois. This was done under military protection, directed by me, in the belief, still sincerely entertained, that with such a nucleous around which to build, we could get the State into position again sooner than otherwise. In this belief a general promise of protection and support, applicable alike to Louisiana and other states, was given in the last annual Message. During the formation of the new government and Constitution, they were supported by nearly every loyal person and opposed by every secessionist. And this support, and this opposition, from the respective stand points of the parties, was perfectly consistent and logical. Every Unionist ought to wish the new government to succeed; and every disunionist must desire it to fail. It's failure would gladden the heart of Slidell in Europe, and of every enemy of the old flag in the world. Every advocate of slavery naturally desires to see blasted, and crushed, the liberty promised the black man by the new Constitution. But why Gen. Canby and Gen. Hurlbut should join on the same side is to me incomprehensible."
Of course, in the condition of things at New-Orleans, the military must not be thwarted by the civil authority; but when the Constitutional Convention, for what it deems a breach of previlege, arrests an editor, in no way connected with the military, the military necessity for insulting the Convention, and forcibly discharging the editor, is difficult to perceive. Neither is the military necessity for protecting the people against paying large salaries, fixed by a Legislature of their own choosing, very apparent. Equally difficult to perceive is the military necessity for forcibly interposing to prevent a bank from loaning it's own money to the State. These things, if they have occurred, are, at the best, no better than gratuitous hostility. I wish I could hope that they may be shown to not have occurred. To make assurance against misunderstanding, I repeat that in the existing condition of things in Louisiana, the Military must not be thwarted by the civil authority; and I add that on points of difference the Commanding general must be judge and master. But I also add that in the exercise of this judgment and control, a purpose, obvious, and scarcely unavowed, to transcend all military necessity, in order to crush out the civil government, will not be overlooked.22
Hurlbut sent a very lengthy reply to President Lincoln on November 29. The 13-page letter began: "I confess myself much surprised at the tenor and spirit of its contents and am well assured that correct information has not been furnished you of the position either of Genl Canby or myself."
I recognize as thoroughly as any man the advance toward the right made by the adoption of the Free Constitution of Louisiana, and have done and shall do all in my power to vindicate its declaration of freedom, and to protect and prepare the Emancipated Bondsmen for their new status & condition. The fact has been withheld from you, Mr President, but it still exists that nothing has been done for this purpose since the adoption of the Constitution — except by military authority.
They are supported, they are clothed they are hired, they are educated exclusively and entirely by the military authorities of the Department of the Gulf, and neither the Executive or the Legislature have done or projected a single thing for their benefit or offered to take this charge off our hands.
The Constitutional Declaration cannot act "proprio vigore." Laws are needed but not made.
It is untrue in fact so far as I am concerned or am informed that there exists any hostility toward the state Government of Louisiana.
On the contrary were it not for the news papers and an occasional call by me upon the Executive for information I should have no reason to know that such an organization existed.
I do not think that any of the Officials have called upon me either for conference or any other purpose since I have been in command.
Hurlbut said he hadn't seen Governor Hahn because Hahn hadn't come by the general's offices. He went on to complain about the civilian government in the reconstructed state: "Mr President while I recognize the work of the Constitutional Convention as one of great merit and of vast importance at the time when it was accomplished — it does not follow that I should entertain for the individual members of that body any other sentiments than those which their conduct deserves. Unworthy men are not protected from animadversion as individuals where they deserve it because collectively they have done wise & prudent things.
This is the substance of my communication to Genl Canby referred to by you.
On taking charge of this Department, it became my duty to report to my immediate commander the state of things as I found it to be.
Among other things the immense peculations committed or suffered by the late convention or its agents were forced upon my attention first by the popular out cry; Secondly by the Official Report of the Auditor.
Genl Shepley the Mil. Governor had turned over to his successor a full Treasury. It was exhausted by the expenses of the Convention and very much of it for individual gain.
This I objected to, and affirm that the men who were guilty of this robbery upon a people in such circumstances, are unworthy of confidence from the authorities at Washington or elsewhere.
In short Mr President I do not consider these individuals as either earnest or honest and therefore not to be believed or trusted and this I have reported and still do report of the men thus guilty.
Hurlbut contended he wasn't blaming Governor Hahn, but he did pretty much blame everyone else in Louisiana for the area's problems. Hurlbut wrote: "Your Excellency has known me long enough to feel assured that on principle and by practice, I am disposed to do every thing in my power to advance the condition of the Colored Race both as a measure of humanity and justice and as the sole condition of eventual safety and unity of the American Nation." He then wrote: "The questions involved in your letter require that I should state distinctly and clearly the precise condition of affairs in this State, hitherto I am satisfied withheld from you." He then went on to describe in excruciatingly detail the state, the city, commerce, and freed black slaves. Hurlbut wrote: "If Sir you desire that all these duties be turned over to the State authorities it can be done. If not, I trust that the very onerous & harassing duties of the Commander of this Department may not be embittered by representations made by interested men. The State Government can never successfully go into full operation until armed resistance ceases, until then while I remain on this duty I am ready & willing to assist, respect & maintain them in the exercise of so much of their functions as the course of events will enable them to enter upon."23
President Lincoln was apparently not persuaded by Hurlbut's excuses. In December 1864, the President appointed a military investigating commission to look into the corruption which Hurlbut had permitted in New Orleans. According to Lash, "Although he could have summarily removed him from his Gulf command, Lincoln, probably to appease Hurlbut's few remaining but still influential supporters in Illinois, sought a legal foundation on which to court-martial him for misconduct and force him from the army. Lincoln undoubtedly recognized an opportunity to remove a strong opponent of presidential reconstruction in Louisiana and a central figure in the army's cotton ring at New Orleans."24 Hurlbut was never tried on corruption charges and left the army in June 1865. Hurlbut's incompetence didn't hurt his career after the Civil War. After the war, he became the first president of the Grand Army of the Republic and served as U.S. Minister to Peru under President Ulysses S. Grant. He also served in Congress (1873-1877).
---
Footnotes
Jeffrey N. Lash, A Politician Turned General: The Civil War Career of Stephen Augustus Hurlbut, p. 177, 174.
Geoffrey Perret, Lincoln's War, p. 19.
Jeffrey N. Lash, A Politician Turned General: The Civil War Career of Stephen Augustus Hurlbut, p. 56.
Allan Nevins, The War for the Union: The Improvised War, 1861-1862, p. 47-48.
Michael Burlingame, An Oral History of Abraham Lincoln: John G. Nicolay Interivews and Essays, p. 63 (Interview with Stephen A. Hurlbut, May 4, 1876).
Michael Burlingame, An Oral History of Abraham Lincoln: John G. Nicolay Interivews and Essays, p. 63 (Interview with Stephen A. Hurlbut, May 4, 1876).
Jeffrey N. Lash, A Politician Turned General: The Civil War Career of Stephen Augustus Hurlbut, p. 213.
Kenneth P. Williams, "Lincoln Finds a General", III, p. 165.
CWAL, Volume VI, p. 358 (Letter to Stephen A. Hurlburt, July 31, 1863).
Michael P. Johnson, editor, Abraham Lincoln, Slavery, and the Civil War, p. 229.
Abraham Lincoln Papers at the Library of Congress., "Transcribed and Annotated by the Lincoln Studies Center, Knox College. Galesburg, Illinois", (Letter from Stephen A. Hurlbut to Abraham Lincoln, July 10, 1863).
Theodore Calvin Pease, editor, Diary of Orville H. Browning, I, p. 692 (November 14, 1864).
CWAL, Volume VIII, 107-108, (Letter from Abraham Lincoln to Stephen Hurlbut, November 14, 1864).
Abraham Lincoln Papers at the Library of Congress., "Transcribed and Annotated by the Lincoln Studies Center, Knox College. Galesburg, Illinois", (Letter from Stephen A. Hurlbut to Abraham Lincoln, November 29, 1864).
Jeffrey N. Lash, A Politician Turned General: The Civil War Career of Stephen Augustus Hurlbut, p. 169.
Abraham Lincoln Papers at the Library of Congress., "Transcribed and Annotated by the Lincoln Studies Center, Knox College. Galesburg, Illinois", (Letter from Stephen Hurlbut to Abraham Lincoln, March 27, 1861).
Abraham Lincoln Papers at the Library of Congress., "Transcribed and Annotated by the Lincoln Studies Center, Knox College. Galesburg, Illinois", (Letter from Stephen Hurlbut to Abraham Lincoln, August 18, 1863).
Michael Burlingame and John R. Turner Ettlinger, Inside Lincoln's White House: The Complete Civil War Diary of John Hay, p. 74-75 (August 19,1863).
CWAL, Volume VI, p. 387.
John Cimprich, Fort Pillow, a Civil War Masssacre, and Public Memory, p. 93.
Abraham Lincoln Papers at the Library of Congress., "Transcribed and Annotated by the Lincoln Studies Center, Knox College. Galesburg, Illinois", (Letter from Michael Hahn to Abraham Lincoln, October 29, 1864).
Richard N. Current, "Lincoln and the First Shot", p. 783.
Jeffrey N. Lash, A Politician Turned General: The Civil War Career of Stephen Augustus Hurlbut, p. 130.
CWAL, Volume VI, p. 387 (Letter of Stephen A. Hurlbut to S.B. Walker).